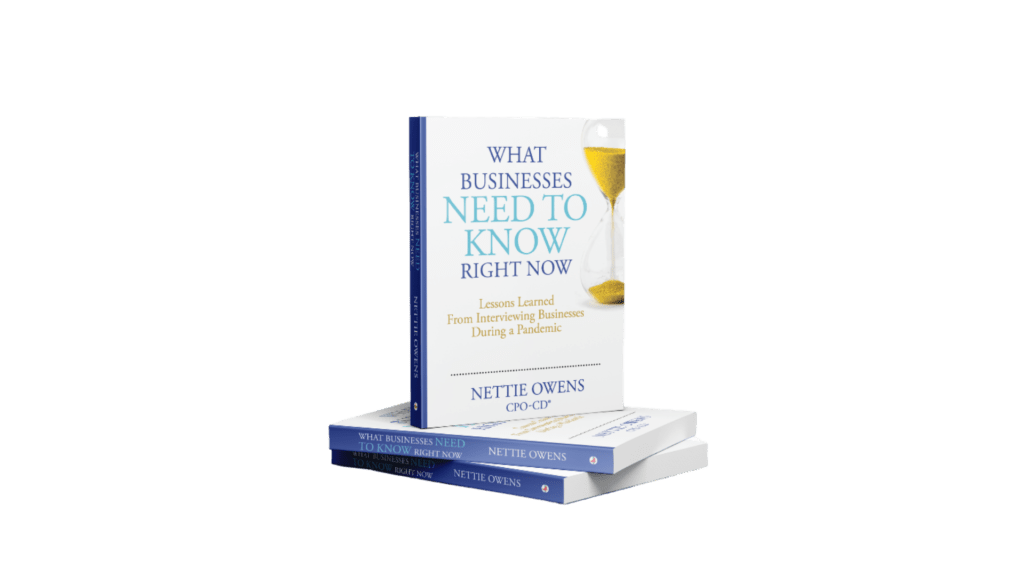 There are lots of things I appreciate in life…and one of them is most definitely you and your support of my new book, "What Businesses Need to Know Right Now: Lessons Learned From Interviewing Businesses During a Pandemic." In fact, I still pinch myself when I see it sitting on my bookshelf.
If you haven't picked up your copy, I encourage you to do so! You can grab a digital version or paperback version on Amazon – and check out all of the great interviews that occurred during the height of the Pandemic.
The lessons shared, advice given, and tips, tricks, and actionable steps contributed make this a book that you'll want to keep right on your desk!
Bruce M. Casner (Morgan Casner Associates) said, "Nettie Owens has compiled a treasure trove of wisdom from a diverse group of interviewees. Asking the right questions to experts in several fields, she has uncovered and cataloged valuable insights that will help the reader adjust to the world of COVID-19. Readable and relatable, this book will be useful long after the Pandemic is consigned to distant memory."
If you've already received your copy, I'd love to hear your thoughts! You can reply to this email or share a review on Amazon.
BONUS: If you have your copy and would like access to the bonus resources page send me a photo of you with your book or your receipt and I will send the bonuses along. Right now the bonuses include templates, assessments, access to training and consultations with experts that can help you apply what you are learning.
Thanks again for your tremendous support!
Please comment below. I would love to hear from you.