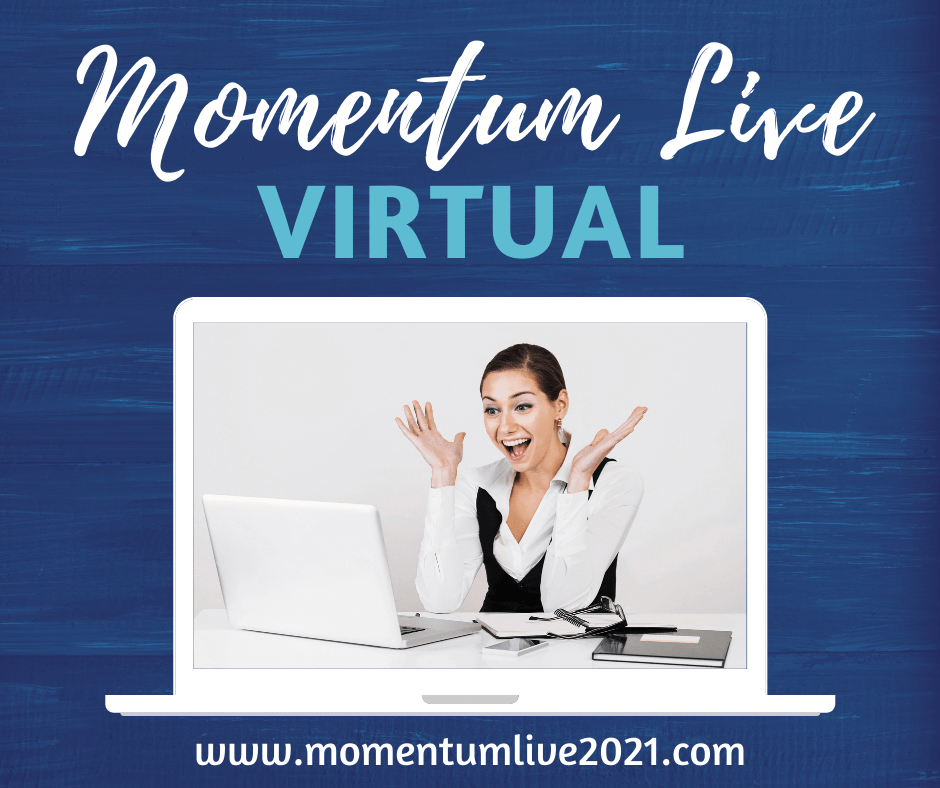 Can you believe we're almost in to Q2 of 2021? It was just one year ago that we gathered for Momentum Live, speculating whether a quarantine would last for 8 weeks or 12 (ah, the good old days when we were so optimistic).
A year later we are still optimistic. Why? Because we've lived through the most difficult time and we are still going strong.
Give yourself a pat on the back.
And then get ready to make 2021 the best year EVER in your business.
How? By attending Momentum Live Virtual (details below).
Chances are in 2020 you had to toss your plans and create others. You have pivoted, you have innovated, you have stretched yourself. At this point, I am guessing you are ready for a little normalcy, consistency and growth.
It's Ok. You Are Not Alone.
AND 2021 really can be your best year yet.
I've created an amazing virtual event (after all, I've had a year of virtual events to figure out how to make one AMAZING).
You can find all the details on the registration page, but here are the highlights:
It runs April 28th to 30th. You choose one of those days for the workshop where you'll create a step-by-step strategic plan you can easily act on. You'll be in a cohort with 30 smart, successful, amazing entrepreneurs to provide insight and guidance.
You can attend the opening party on April 27th, the hot seat mastermind on the 29th, the guest speaker trainings on the 29th and 30th, and all the other fun networking activities.
You will nurture relationships with other business owners that are just as 'outside the box' as you are
You will finally get started on that BIG goal because you will KNOW what to do on a day-to-day basis to achieve success in business and life
"Momentum Live gave me time and space to look at my business. Nettie creates phenomenal communities wherever she goes. I had a tribe of empowered people making a positive impact on the world, looking at MY business. That's the most powerful experience. We made money in the room."
Cat Stancik, Lead Boss, ActionIncubator.com
Here is the value in dollars:
Strategic Planning, Masterminding, Goal Setting, Vision & Implementation guided by Nettie Owens, CPO-CD – Valued at $7500
Laser Coaching – Valued at $1500
"Unstoppable Clarity: How to Activate Momentum with Shamanic Vision Journey Meditation" with Victoria Whitfield – Valued at $997
"It's Possible: You're on the Precipice of Your Next Level" with Brain Rassi – Valued at $997
Digital Financial and Goal Planning Tools – Valued at $997
Momentum Live Strategic Planning Guide – Valued at $200
Retreat Success Package – Valued at $200
Networking & collaboration with other visionary entrepreneurs Priceless
TOTAL VALUE: $12,391
But you know that's not what the investment is.
Your Investment is only $997!
Unless…
We are in early-bird pricing until 4/1/21. That means you can register for …
$697
One day of transformational business coaching. Three days of priceless relationship building. An actionable plan to catapult your business forward WITHOUT adding more work hours to your day. All for $697.
Let's do this.
Please comment below. I would love to hear from you.