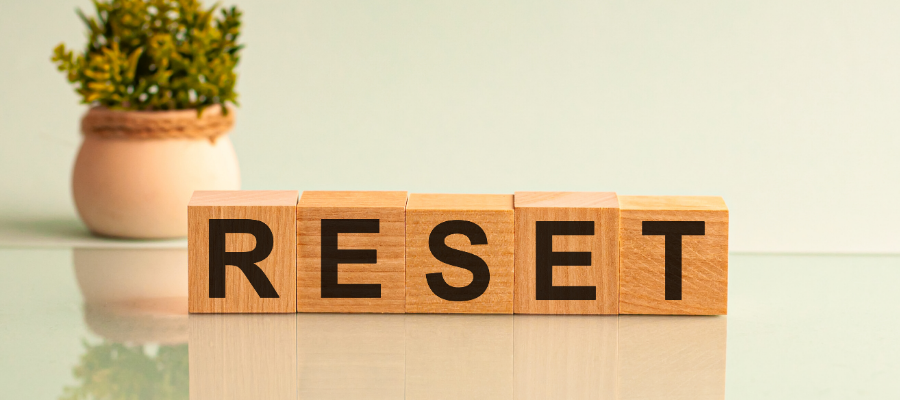 I think we can all agree that 2020 has not gone the way we expected it to.It most certainly has not gone the way we wanted it to.But here's the good news… we are officially past the halfway point in the year.
We've learned a lot and we realize that we need to make adjustments to how we do things, but now it's time to take those lessons and tackle the second half of the year with a renewed focus on achieving your goals.
Let's pretend we have a "reset button" for 2020, shall we?
I use this exercise at the start of each year with my clients, but it feels right to do it again for our 2020 Do-Over…
1. Out with the old! Clear out files, projects, receipts, digital files that reflect past work you are no longer doing. Archive if needed and delete to give yourself a fresh start. (handling files now makes tax time much easier!)

2. Spend a morning listing all of your accomplishments and the lessons you've learned so far this year. Once you have a good list, make a note of 'how' you achieved those successes or what changed with those lessons. It's easy to forget what we have accomplished when we are moving forward but we can learn from our successes and our challenges equally.

3. Review your calendar. We've all had to make changes to plans for in person events, travel, and other things that look very different now from what they did 6 months ago. What can you let go of to make room for as you create your new 2020 plan? Add the 'big stuff' onto your calendar to give yourself a framework moving forward.

4. Vision – Wave a magic wand. Write yourself a letter six months from now explaining all that you have accomplished in the last half of 2020 (despite all of the Corona-craziness). This clarifying exercise can help you see what will be important in the coming months.

5. Break down your plan – on 2 separate sheets of paper (a digital file works, too if you print it or save as your phone wallpaper) – list what must be accomplished in each of the remaining quarters of the year. Work from the end (Dec 31, 2020) back to the starting point.
If you are ready to hit that reset button and start your 2020 do-over, and you would like to know more about how to create your own recipe for the business you desire, let's talk.
It's easy, just a 15-minute conversation to see where you are, where you would like to go, and what's getting in the way.
It may just be the one conversation that changes everything for you.