It's never just one Mail Monster, is it?  It's all the little monsters that add up to make handling paper a big chore.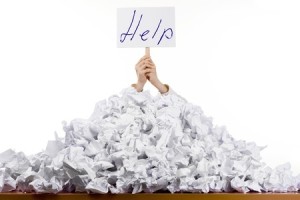 The Never-Ending Monster – It seems, sometimes, like the amount of mail coming into our homes is never ending.  The Never-Ending Monster multiples when you make a purchase or a donation to an organization.  Catalogs, magazines, donation requests and flyers flow into your mailbox and increase at will.  
You can tame the Never-Ending Mail Monster by using an app such as PaperKarma to remove yourself from lists.  Plus, be mindful to select the box to 'not receive special offers' when you are making purchases online.
The Ubiquitous Monster – This ugly guy rears his head when mail seems to exist everywhere in your home at all times.
You can tame the Ubiquitous Monster by designating one spot to place all incoming mail.  Pick one that matches your decor so that you are inclined to use it and put it where you (and others in your household) will see it.
The Old Dead Monster – When mail sits for periods of time, it expires.  The Old-Dead Mail Monster LOVES expired mail in large quantities.
You can tame the Old Dead Monster by adding an appointment to your calendar to handle the mail on a weekly (not daily) basis.  Start by getting into the habit of handling what is coming into your home on a weekly basis from your inbox.  Then, tackle the old dead mail 5 pieces at day.
Are you pretending the monsters are not really there?
If you are avoiding handling the mail the monsters just multiply. Sometimes we imagine that the situation is too big to handle and then avoid doing anything.   Imagine instead that your mail situation is completely manageable.  Try reciting an affirmation (daily is great or every time you see a piece of mail is even better!)  Here are a few to start with:
I handle my mail as it comes in and it just keeps getting easier and easier.
I know what to do with my mail.
Every day the paper piles get smaller and smaller.
I am in charge of my paper.
What affirmations would you add to your day to put a positive spin on what you are working on? Share in the comments below!