"I want to follow thru with my resolutions this year!"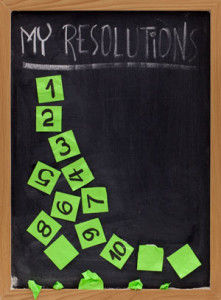 With New Years 2014 just around the corner it is a great time for us to look ahead and plan for a fabulous year! Many people make resolutions at this time of year, only to break them within a few days. Frequently these resolutions are focused on food related or weight loss goals. How can we make this year different? A few simple tips will help ensure your success!
Make SMART goals!
Try to avoid setting vague goals such as "I will eat healthy and lose weight".  Your goals should be Specific, Measurable, Attainable, Realistic and Time sensitive. Some examples:
"I      will eat 1 cup of greens every day for the next 3 months. I will do that      by picking from at least one of these every day: a green smoothie, a dark      green salad, or cooked greens made from at least 1 cup of raw leafy greens."
"I      will eat one meat and dairy free meal every week."
"I      will lose 5 pounds by June by eating more whole plant foods (vegetables      and fruits), eating less processed foods and walking for 30 minutes 5 days      a week."
"I      will make home a cooked dinner including fresh vegetables at least 3 times      per week."
"I      will try one new vegetable/fruit every month."
"I      will cut out late night sweets and salty snacks      and substitute with peppermint/chamomile tea and/or a healthy seasonal      fruit at least 5 nights every week."
Be accountable and build your support system! 
Write your goals down and place them in a prominent place as a reminder to yourself. Share your goals with a friend or family member to increase your accountability. Build your support system by surrounding yourself with others with similar goals. Try following Facebook pages that support similar goals. Some good pages to follow focusing on whole plant based foods are: Happy Herbivore, Engine 2 Diet, Forks Over Knives, Plant Based Dietitian, and my own page: Barbara Wagner, RD, LDN, Plant Focused Nutrition.
Want more help?
If you would like some help setting realistic goals and developing a realistic plan for yourself for 2014, join us for a full day workshop January 18th!