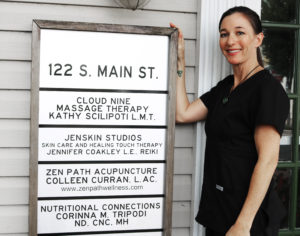 What do you do?
I am a licensed Esthetician, otherwise known as a Skin Care Therapist, and owner of the holistic healing studio Jenskin Studios.  I take a holistic view of the health of the skin and to one's over all well-being. A holistic approach works with the skin's natural function instead of against it to get a result.  In the studio, I integrate pure, synthetic and toxin free products which include wild crafted and organic ingredients with healing therapies to bring about an internal balance and external glow for each person.  The most popular services are the Custom Skin Therapy Facial, Abdominal Therapy, Reiki, and Hot Stone Back Bliss (guy's favorite).  The skin is a living organ and with today's modern lifestyle, can become overloaded and lose its vitality.  I help people bring that vitality and health back to their skin, especially those with autoimmune issues, or people going through or recovering from chemotherapy and radiation.  The products I use are approved and being used in oncology facilities across the country.
How did you get into this profession?
In my early 30's I had thoughts of becoming a massage therapist because I wanted to get out of the corporate world and help people feel good. I had a very simplistic view.  I visited a few massage schools around the town I lived at the time to see if I could manage to do it with my newborn and a full time job.  I took a vacation day to visit a massage school on the top of my list and returned to work the next day to find out that my position had been "eliminated" I was let go from my full time job!  I couldn't afford the massage school now so I went to beauty school instead, where I learned some massage techniques that Estheticians are licensed to do.  I never really thought of being an Esthetician prior because I had terrible skin growing up as a child (back in the 80's with very little options for relief).  It was the furthest thing from my mind. However, looking back on my childhood, my mom  took me to a Chiropractor who taught me how to eat better and what to avoid to help my skin heal with a holistic point of view.  She also took me to an Aunt on my father's side who introduced me to Reiki.  Now, at Jenskin Studios,  I put all of it together and love seeing my guest find peace and healing.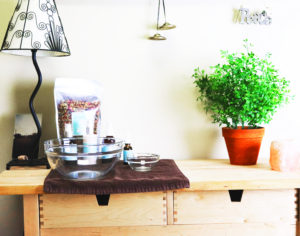 How does being organized help you work?
 As an entrepreneur and a one woman show, organization is key to making sure all of the tasks are getting done in a timely manner.  Being organized was easy at first but over the years as the business grew I found myself having to implement more time management and other tasks to stay organized.  I like putting a personal touch on everything I do for guests but have realized that some things need to be done with new technology and most people don't mind that.  So, embracing modern technology to assist with my organizing was key.
What do you do to help your clients take control of their life?
I keep it simple for them.  The skin care industry went through this phase where it said people needed to have 7-9 products to use everyday on their skin. Today, using holistic skin care products and therapies, I am able to bring results my guests are looking for with fewer, multitasking products.  I also am able to bring about a calm and peaceful feeling to their lives while enjoying a Jenskin Studios experience.  Whether it is just having a cup of tea and conversation or a full treatment.  When they feel better, they are able to function in life better.
Sappari Solutions is founded on 7 core values, which one speaks to you and why?
Compassion.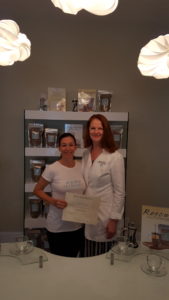 I find that women are great at sharing compassion with others but do not realize we also must offer it to ourselves.  At Jenskin Studios, most guests allow me to assist them with finding that compassion for themselves. To help relieve them of stress, anxiety, depression, and chaos, if only for the time they are in the studio.  But that short amount of time is a big deal to the body.  Touch during a skin therapy session allows compassion to be exchanged and healing of the skin to begin.  I love showing a guest what their face looks like after a session because they see the glow on their skin and even the relaxed brightness in their eyes because they allowed themselves to just "be" for a moment.  That's exciting to me!
Facebook
Jenskin Studios Supportive Skin Care and Reiki Services
---
 You can achieve peace and calm  
It's time to get out from underneath the clutter. And it is not just physical clutter that is holding you back from living the life of your dreams but the clutter in your schedule and your mind. The focus for you right now needs to be on identifying the issues, finding their source, letting go of that stuff that is holding you back. You need to set goals and prioritize around what it is you are trying to achieve and why that is important to you.
TakeControlSystem.com