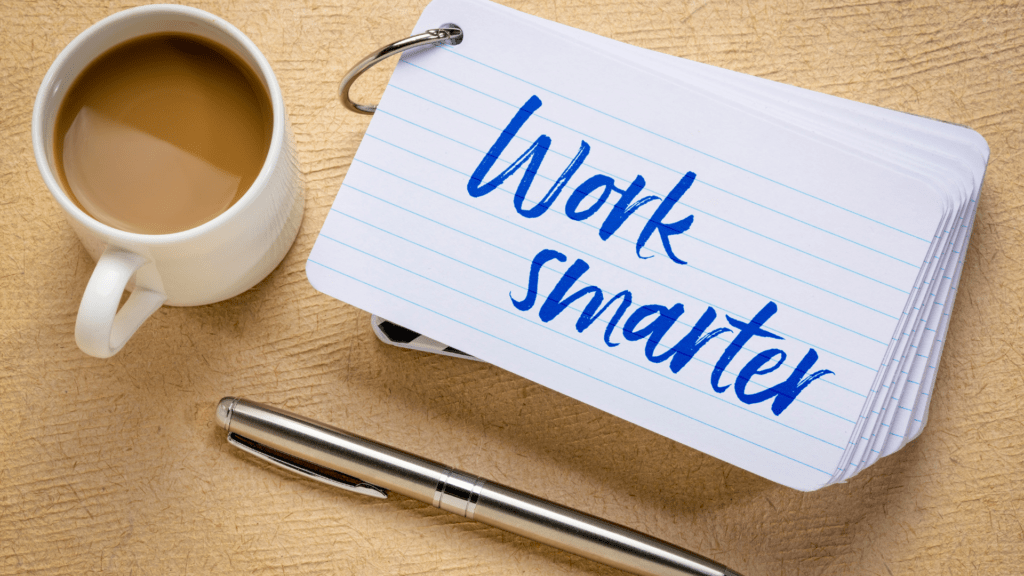 We've all heard the expression, "Work smarter, not harder." But what's the end goal? More clients? More money? More prestige? Yes, on the surface, those might be your immediate goals – but I don't necessarily think they should be.
"The point of working smarter is to generate a leisure dividend," states Judith Kolberg in her book, Getting Organized in the Era of Endless. Kolberg explores the ideas of organizing through the centuries and especially now, as information is endless, but time is limited.
A leisure dividend! Yes, the goal of working smarter is to pay yourself back in TIME!
As we head into the winter holiday season, starting with Thanksgiving in the United States, how many of us are cashing in our leisure dividend? Or are we continuing to deplete our reserves – swapping time off and rest for the illusion of getting things done?
After so many years in the productivity and organizing fields, and learning from my own very human experience, I have found working harder and working smarter is only effective if paired with comparable amounts of rest and play.
Put simply, our brains need a break if they are to operate optimally.
To go along with the mental necessity of taking a break, we can't forget what long hours do to our bodies and the impact it has on our physical health.
A WHO study published in May 2021 found that, "People working 55 or more hours each week face an estimated 35% higher risk of a stroke and a 17% higher risk of dying from heart disease, compared to people following the widely accepted standard of working 35 to 40 hours in a week, the WHO says in a study that was published Monday in the journal Environment International."
(https://www.npr.org/2021/05/17/997462169/thousands-of-people-are-dying-from-working-long-hours-a-new-who-study-finds)
As leaders, we're always looking out for our teams – making sure they're doing okay physically, mentally, and emotionally – but it's not just our teams we need to be paying attention to.
We also need to look out for ourselves.
In order to be effective and to lead, we need to show those who are looking to us that we also follow a company policy of a 35–40-hour work week, that we use our time off, and we ask our teams to do the same.
When it comes to helping ourselves and our teams, we can lead by example and set the standards. Think about things like exercise – that will help our people and us. A report from Johns Hopkins School of Public Health shared, "Research has shown that employees who get at least 75 minutes of vigorous-intensity physical activity per week miss an average of 4.1 fewer days of work per year.3,4"
(https://www.jhsph.edu/research/centers-and-institutes/institute-for-health-and-productivity-studies/_docs/archived-projects/WHRN_PA.pdf)
That means focusing on 10 minutes of vigorous exercise daily, seven days a week, or 15 minutes 5 days a week. How can you incorporate this as a company value?
Additional ways to get the breaks your brain needs are by:
Drinking water.
Focusing on an earlier bedtime so that you can prioritize rest and healthy sleeping patterns.
Prioritizing whole foods in meals and snacks. (My favorite way to do this is through a meal planning service called PlateJoy. It not only gives my family and me healthy meals, but it also gives me back time by doing the planning and prep work for me.)
As a leader, you not only need to put your oxygen mask on first but also to show that you are doing so. Your leadership team should not only be following but demonstrating your corporate values of shorter working hours, rest, play, and good eating and exercise habits. When your team sees this, it creates an environment that invites and encourages them to do the same.
And, of course, give yourself the grace to ask and allow others to help you.
Lastly, don't work effectively just so that you can work more. Do it so that you can enjoy the pleasures in life, especially during this thankful, joyful, celebratory season.
Please comment below. I would love to hear from you.