"I had been needing something my whole life,"
Elena B, one of Sappari Solutions' fantastic clients, said in a recent conversation.
Elena shared that she had seriously lived a whole life of disorganization. Unable to get ahead of  paperwork, it was a struggle to pull everything together when things like taxes needed to be done. The house was also very difficult. Closets were chaotic and other areas, like the loft, were in complete disarray. It was just too much to tackle and she didn't know where to start. Elena says that she tried to find help several times, but it never worked out.
Then she found Sappari Solutions and found a way to use organization for living.
"I remember it was a very snowy day. We don't shovel, and I told them, 'don't come in your high heels!'"
Karin and Jane went in and began asking questions that would help them to understand the situation and Elena's needs. Then they toured the whole house. They made Elena feel comfortable. She felt they had the situation under control.
As the work progressed, the organizers would come in, start working on the project and they could get so much done at one session! They would leave a task list and help set goals so that
The things that needed to be done didn't seem to be so big anymore because they could be achieved in small steps.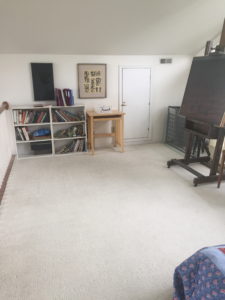 Jane and Karin  would also do special things, little touches that made the house so much nicer, like the tiles that they put in under the kitchen  cabinets that were so pretty. Elena said she was so pleased and it was such a thoughtful touch.
Things are SO much better now. The organizers have been working with her for 2 years and she feels like she can trust them with everything. Spaces are transformed and Elena can find everything. "They just know me so well. They know where everything is."  And it isn't just the physical clutter, Elena shared that her organizers have helped her clear a big space in her mind.
She said that after the taxes were done this year she broke down and cried. It had never been so straightforward before.
Organization for Living
Karin shared that they organized her medical information (as well as her tax information).  Karin says, "We created a binder with all of Elena's medical information.  She sees multiple doctors regularly and has a hard time remembering it all.  She brings this binder with all her records whenever she has an appt.  I think this has been one of the most beneficial things we have done for her.  We created one for her husband too."
Another area that has been vastly improved is her use of technology. Her organizer has helped her learn to use her computer and phone more effectively and she likes that she can always text when she needs a little help remembering a step.
When asked for words that describe her experience she said,
"Comfort, trustworthiness, focus and amazing."
Looking for results like Elena?  Speak to one of our organizing professionals today and let us know what you are working on.