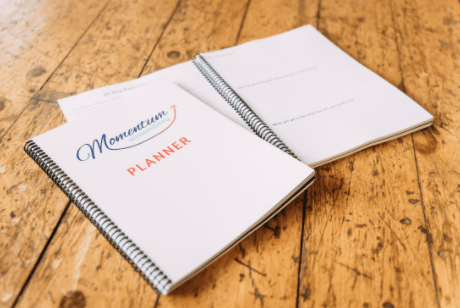 Did you catch Andrew Kap's interview on Tuesday for "What Businesses Need to Know Right Now"? It was all about value and gratitude – and it had me reflecting on the summer. (Yes, I know that we have a couple of weeks until Labor Day rolls around and summer comes to its unofficial end – but reflection can be done at any time!)
Of course, I love summer. Fresh vegetables. Relaxed children. Time spent outdoors. An all-around slower pace to things.
I'm looking forward to the end of summer.
Are you sitting there saying, "WHAT?? Nettie…how can you be looking forward to the end of summer? Summer is FANTASTIC!"
It is! I agree 100% and…
Towards the end of summer, I start to get a little antsy – and I'm ready to get back to routine and make things happen.
And I'm feeling that way now!
How about you? Are you ready to put that slow summer pace aside and make some headway on those goals you've set for you and your business – or to create new goals to tackle?
I grabbed my Momentum 90-Day Planner the other day and started to reconnect with my vision and think about what I need to do to take action.
If you're in need of a planner that allows you to create a vision, look back on past experiences, and move forward with your goals – then the Momentum Planner is for you!
Amy Linder-Lesser said, "I love that the Momentum Planner is so different from other planners. There are no dates which for me is great. I can start and stop and resume where I left off. It makes me get specific with my 4 monthly goals and then, using the Rear View Mirror technique, break them down into smaller actionable steps to ensure that I will get something done toward their achievement and also that I will succeed. Before using the Planner, I had a hard time breaking my large goals into actionable steps; now it is so doable!"
Are you ready to take some action?
Please comment below. I would love to hear from you.