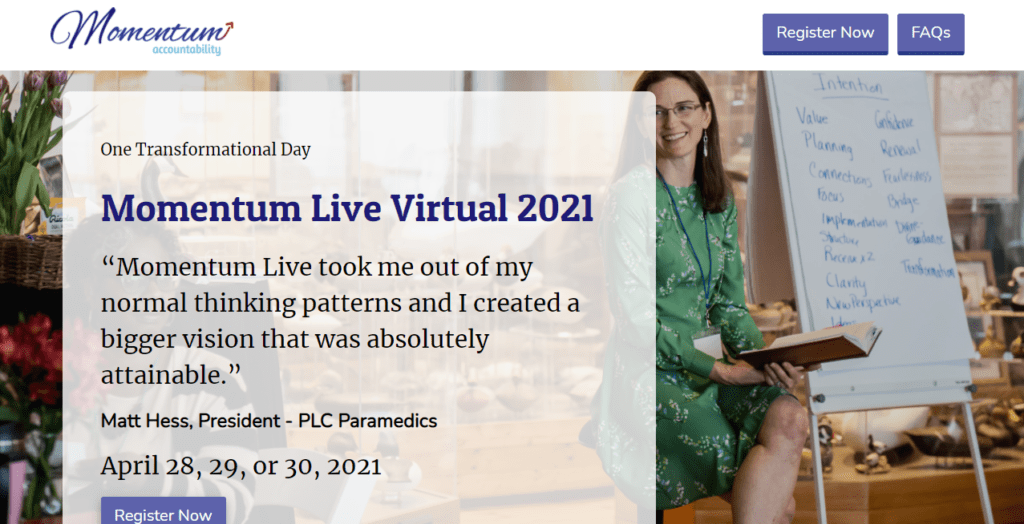 I'm going to keep this email really brief because I'm busy putting the final touches on Momentum Live Virtual 2021 that's coming up on April 28, 29, and 30th (and I'm SUPER EXCITED).
But I want to make sure that everyone who wants to attend has registered! (Trust me, I know how easy it is to save that email with the intention of registering – and then have it get buried below 101 other emails – and then you miss the registration deadline – and then you have FOMO when you hear everyone raving about how great it was! I don't want that for you! I want you there!)
So, if you can't find the previous emails where I shared the info – let me help you out!
If you:
Want to know more! CLICK HERE! (Make sure you keep scrolling to get all of the pertinent details.)
Don't want to miss this! Thanks for the reminder! REGISTER HERE!
Have a couple of questions! CLICK HERE!
If you still have questions, just hit reply to this email! I'll be happy to answer them!
Can't wait to see everyone at the end of the month! It's going to be fantastic!
Please comment below. I would love to hear from you.