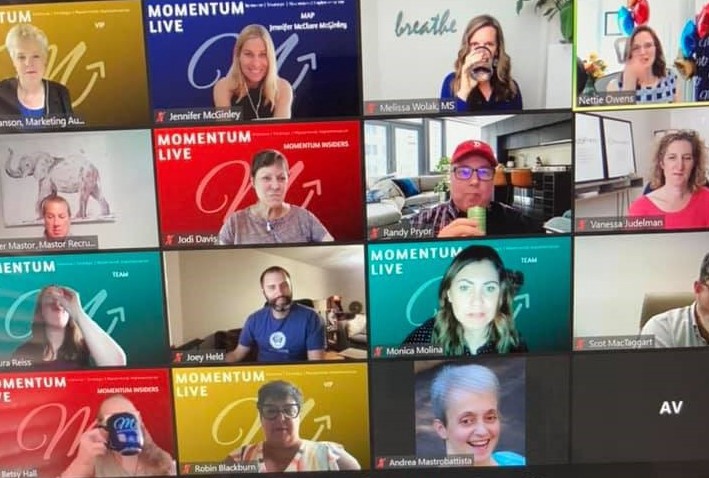 I can't thank you enough for giving me the week to digest and reflect on all of the great things that happened at Momentum Live Virtual 2021. It was three impactful days – both for me and those in attendance.
For me, this was the culmination of months of work to bring you and your business what you needed.
There was some laughter…with the Stand Pup Comedy event on the Tuesday before it all began – because laughing just makes everything better! (And when you throw in pets…yeah, hilarious!)
There were some deep-dives into the obstacles you might be facing – and how to overcome them. When you share your roadblocks with others, they become less insurmountable as people can often help you see beyond what's right in front of you.
How about the setting of 10 "audacious" goals? I love that word – "audacious" – it's just so bold! And that's what the goals you set for yourself are!
There were Mastermind and Laser Coaching sessions – and seeing your faces as we talked was so rewarding – and I hope it was for you, too.
Let's give it up for our two incredible guest speakers! Sensei Victoria Whitfield shared a never-before-seen presentation on "Unstoppable Clarity," – and she looks forward to you reaching out to her for follow-up. And, of course, Brian Rassi gave us a realistic look at money – and how you can access it at the right time and in the right way.
And, while you set "audacious" goals – you also set up financial goals – and I can't wait to hear all about your progress in reaching them!
Susan Rose led three fabulous yoga sessions – because yoga is an ideal way to calm the mind and the body – either at the start or end of your day.
Networking is an essential part of any event, and you took full advantage of your chances to network at Momentum Live 2021! I hope you've made lifelong connections with people that can be part of your tribe going forward.
Finally, I can't fail to mention the strategies that I saw develop and then to see you take these strategies to the next level and actually start implementing them at the event – it's just what I wanted to see happen for you. What good with this event have been if you only had some vague ideas – and not a means to get them off the ground?
And yes, "What Businesses Need to Know Right Now" launched on Day 1 – and for that, I just have to say, "Thank you." Your support of this passion project was evident – and I can't wait to hear your feedback.
Please comment below. I would love to hear from you.