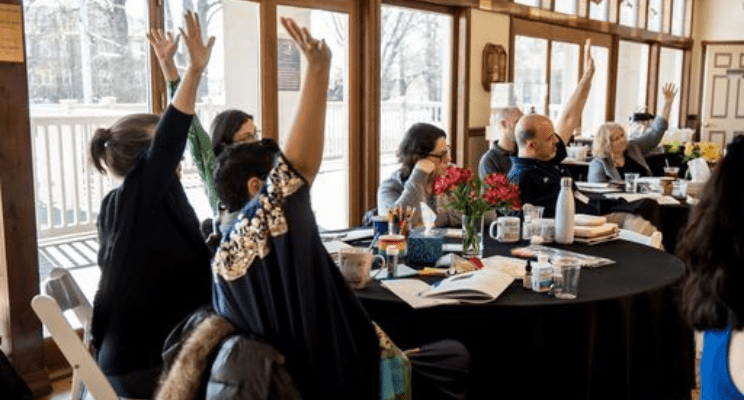 Raise your hand if you've attended Momentum Live.
Raise your hand if you've attended numerous Momentum Lives.
Raise your hand if you're thinking you'd like to attend Momentum Live.
Yes! Raise those hands!
Because whether you've been to Momentum Live previously or you're considering attending your very first Momentum Live this October, you are going to get so much out of this signature event!
Momentum Live happens twice per year, and this October 3-5, 2023 CEOs and executives will be gathering together in Havre de Grace, Maryland, for Momentum Live: The CEO Experience. (Don't you love the new name?)
It's three days that will get you out of your business and working on the things that will move your business forward.
You'll experience:
· Meaningful conversations and connections with other attendees
· Focused activities that allow you to dive deep into your business
· Time to take real action for your business
· Guest speakers that are relevant to you as a CEO/Executive
· Mastermind sessions – including the Hot Seat Mastermind
· Implementation and collaboration with other Momentum Live attendees and guest speakers
And let's not forget about the abundance of laughter and celebrations as you and your fellow attendees make breakthroughs, get clear on your vision, and implement real strategies.
I think the most important thing to remember about Momentum Live: The CEO Experience is that "you receive what you need at the current moment in your business." And how does this happen? Momentum Live: The CEO Experience pulls from your innate abilities and reinforces and expands them with the help of EVERYONE in attendance – and that's powerful.
You may be asking yourself, "If I attended this event before, should I attend again?" And the answer is: MOST DEFINITELY! Each and every time we gather together for Momentum Live the experience is different. The needs of you and your business have most likely change – and the composition of those attending changes each time, too – giving you new experts and ideas to tap into.
Now, priority for Momentum Live: The CEO Experience is given to Momentum Insiders. Once those spots are confirmed, applications will be available for a limited number of spots.
If you have additional questions about Momentum Live: The CEO Experience, or you want to know more about Momentum Insiders (so that you have a guaranteed seat at the table), let's talk. You can set up a time to talk over the phone.
Please comment below. I would love to hear from you.