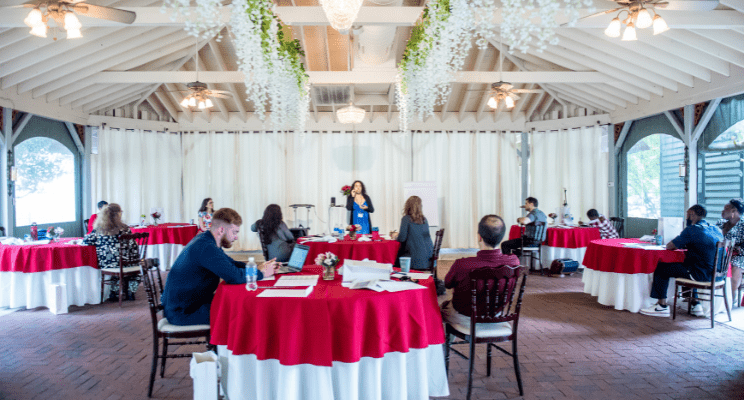 I'm not often left speechless, but after last week's Momentum Live: The CEO Experience in Havre de Grace – I was.
It was three amazing days with people who are even more amazing. People with awe-inspiring goals and the drive to make them happen. And the energy that happens when like-minded people are gathered together is absolutely incredible – you could practically feel it.
And, as I was driving back home from Maryland, I took some time to reflect on my favorite parts of this Momentum Live: The CEO Experience – and there are so many.
First, I want to thank my co-hosts – Sensei Victoria Whitfield and Brian Rassi. I hope you enjoyed their presentations – and the chance to get to ask your questions of them. Additionally, the opportunity to have one-on-ones with them was just priceless.
Next, a big round of applause for Ruthie Bowles and "The WHY Workshop." Her techniques to go deeper with your WHY were what we all need.
One of my favorite parts about Momentum Live is that there is always time for implementation – it's not just a time to get information thrown at you without the chance to see how you can put it to use. And after reflecting on your vision and looking at the obstacles you might face, the implementation – and collaboration – is just vital. The conversations that were going on during these times gave me goosebumps.
And can we discuss the Hot Seat Masterminds? If you haven't attended a Momentum Live before, these masterminds are one of the most powerful parts of our time together – and the results are incredible, to say the least.
Of course, no Momentum Live is complete without the celebratory dinner – and there were lots of things to celebrate this time around! This group has reached levels that prove they are the best at what they do!
I've probably missed about a hundred other fantastic moments and small conversations that make Momentum Live so special – and I'm sure those in attendance have their favorite moments, too – but truly, it's the people that make it so fantastic and so unique every time.
For those who attended, I'd love for you to hit "Reply" and share your favorite moment. And for those who haven't been able to join us, we'll be having another one from March 30 – April 2, 2022. It's never too early to get your application submitted!
Please comment below. I would love to hear from you.