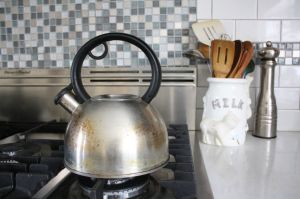 We asked one of our fantastic clients, Rebecca, to share the benefits of kitchen organizing  with Sappari Solutions and how that work has improved the way that her home is working.
Rebecca wanted to be able to use her kitchen with greater efficiency, and Sappari Solutions was called in to help bring the space into line.
"We had the kitchen remodeled, which created a lot more room.  It's a long and large kitchen. I didn't have a sense of what should go where." Having more space is wonderful, but the challenge of organizing the new space to it's best purpose can be daunting.  Working with one of Sappari's organizers, who helped her move items like dishes and utensils, created a more natural flow,  "Now, I feel like we are using the space more effectively and it makes more sense.  Things have a home."
Kitchen Organizing Helped My Husband (and Me!)
Within the family, the new system allows for cooperation, "It's helping my husband because he is the one that puts things away from the dishwasher, now he knows the system.  It has cut down on trying to find things."
"Another thing that has really helped is that it has helped reduce overbuying." Rebecca shared.   "I was getting duplicates of things."  In reorganizing a big roll out cabinet with several different levels, the effect was greater visibility of the items inside.  Before, "There wasn't a system for where things were placed.  By organizing the way things go into the cabinet we can now see what we have.  Our  food items are visible."
Reduce Your Stress, Save Money and Time
Rebecca feels that this project has greatly reduced the stress of not being able to find things, and she says that she knows that they are saving money now because she is only buying what she needs. She is also saving time, because she is not searching for things.
It is so good to know that our wonderful clients are enjoying a simpler, and more enjoyable, daily life as Rebecca describes.
Thank you for sharing your story, Rebecca.
---
You can achieve peace and calm
It's time to get out from underneath the clutter. And it is not just physical clutter that is holding you back from living the life of your dreams but the clutter in your schedule and your mind. The focus for you right now needs to be on identifying the issues, finding their source, letting go of that stuff that is holding you back. You need to set goals and prioritize around what it is you are trying to achieve and why that is important to you.