It has begun.
The approach to the holidays.  The Christmas decor has appeared in the stores, advertisements are talking about shopping, Black Friday and Small Business Saturday.  Holiday parties are in the works.  In fact, I am going to one tomorrow night.  With just two weeks 'til Thanksgiving and a month and a half until Christmas the signs are everywhere that the holiday madness is beginning.  Do you feel it?
Organized Holidays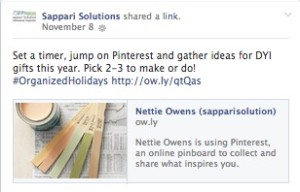 I do.  But my anxiety comes in the form of trying to let go of enough to prepare for the onslaught of gifts and events that we will welcome into our home and attend in the next 45 days.  It comes as I try to share with my children the meaning of Thanksgiving and Christmas and not succumb to the insanity that Black Friday has mutated into in the past several years. In an effort to hold onto holiday traditions, foster new more meaningful activities and break the holiday prep into bite sized pieces I am again completing a holiday countdown.  I hope you will join me.  You can follow along and add your thoughts on Facebook.com/SappariSolutions and Twitter.com/SappariSolution.  Step by step we will walk together through shopping, gift planning, travel preparations, home care and more as the days approach Thanksgiving and Christmas.
Clutter Challenge
But, if you are like me and feel the need to purge before the holidays then you may choose to complete the 30 #ClutterChallenge with me.  Although I started on Nov 1, it is not too late to jump in where you are.  The ideas is this: you find one item to remove from your home on the first day.  The second day you remove two and so on corresponding with the days of the month.  So for day, November 12, I removed 12 items from my home.  These could be trash, recyclables, donate-able items, gifts, consignment, etc.  But you must remove the items that day.  You can see how my Clutter Challenge is going by following along on http://www.pinterest.com/sapparisolution/30-day-declutter-challenge/
What Will You Give?
And when it comes time to consider gifts and gift shopping, check out this article to reconsider What Gifts You Will Give this season.
Re-focus Your Approach to the Holidays
Whatever solution you decided on.  However you organize your holiday preparations keep the meaning of this season squarely in your sights.  Consider one of these ideas to keep the purpose  of the next 45 days in your sights:
Post a statement on your bathroom mirror about why the next 45 days are important to you
Place a small token, a special ornament or mug on your kitchen window to remind you of treasured memories
Select a local non-profit organization and shop for this group, give a gift in your family member's honor or ask that friends and family donate to your selected charity in lieu of gifts to you.
Breathe.  Take a few moments every day to breathe and relax and think on the joy of the season.
Decide to be happy and in control.  It is often (not always!) a choice and we allow ourselves to be swept up by the desires or requests of others.
Do not allow the hustle and bustle to take over.  Even if it means a more simple holiday season 🙂